Aufrufe: 1513
astrid stoeppel – astrid stöppel

professional contemporary artist born and based in germany with a passion for bright pure colors and common geometric shapes. astrid's works are a part of many public and private collections in new york, washington, new jersey, texas, florida, california, colorado, japan, south korea, the uk, france, spain, austria and germany. works on commission are welcome!
sale prices and contact: info@astridstoeppel.com
place of residence: weilheim near to munich, visit my private gallery
see my artist biography here
saatchi artist astrid stoeppel – los angeles/california: shop for my original artworks
singulart – germany/france: shop for my original artworks
artsy – astrid stoeppel – gallery shop alessandro berni new york
stuckup – shop for art prints new york
five 3 gallery – laguna beach/california
context art gallery – treviso/italy
wescover – art&design usa
contemporary art curator magazine artist
gallery nassau42 fine arts – antwerp/belgium
potatomike member – new york/usa
fiidaa art – singapore (2017)
artavita member – santa barbara/california
arts, artists, artwork member – vancouver/canada
art people gallery member – san francisco/california
arteide member – italy
facebook fanpage
instagram blogger and brand ambassador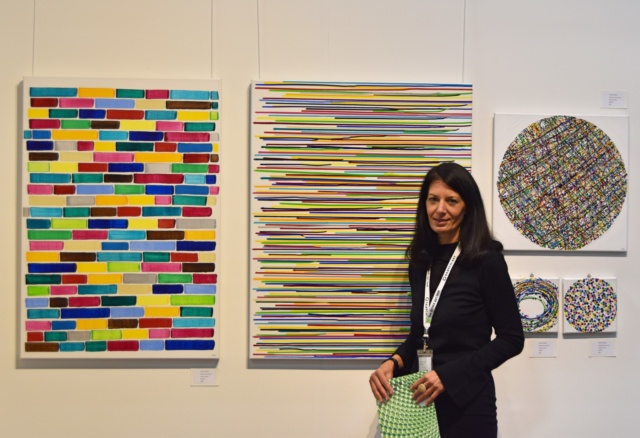 astrid stoeppel: i'm inspired by the color itself and adore the purity. every color gets my attention. for each painting of my very different series i need lot of working hours and usually a very steady hand. i paint them all color by color and fill the canvas step by step with dynamic, vitality and structure.
my message? the time is moving so fast and our mind is strongly influenced by the media and social media. i would like, that people stop their thoughts for a moment, calm down, start to follow the lines, go along with the circles, look at the dots and color fields in my works and feel the vibrancy and attraction of pure colors.